Bedding

Pillows

Women's Pyjamas

Men's Pyjamas

Kid's Pyjamas

Robes

Bath Towels

Bath Mats

Women's Gingham Pyjamas

Men's Gingham Pyjamas

Quilts
Centimeters
Inches
Pillowcases
Standard

75 x 50 cm

29.5 x 19.5 in

Super King

90 x 50 cm

35.4 x 19.5 in

Square

65 x 65 cm

25.6 x 25.6 in

Single
Duvet Cover

140 x 200 cm

55 x 79 in

Flat Sheet

180 x 275 cm

71 x 108 in

Fitted Sheet

90 x 190 x 30 cm

35.5 x 75 x 12 in

Double
Duvet Cover

200 x 200 cm

79 x 79 in

Flat Sheet

230 x 275 cm

90.5 x 108 in

Fitted Sheet

140 x 190 x 30 cm

55 x 75 x 12 in

King
Duvet Cover

225 x 220 cm

88.5 x 86.5 in

Flat Sheet

275 x 275 cm

108 x 108 in

Fitted Sheet

150 x 200 x 30 cm

59 x 79 x 12 in

Super King
Duvet Cover

260 x 220 cm

102.5 x 86.5 in

Flat Sheet

305 x 275 cm

120 x 108 in

Fitted Sheet

180 x 200 x 30 cm

71 x 79 x 12 in
| | | |
| --- | --- | --- |
| | LENGTH | WIDTH |
| Standard | 75 cm | 50 cm |
| Super King | 90 cm | 50 cm |
| Square | 67cm | 67cm |
Please note that UK King size is equivalent to US Queen and UK Super King is equivalent to US King
X-Small
Small
Medium
Large
X-Large
CM
IN
CM
IN
CM
IN
CM
IN
CM
IN
Pyjama Shirt
Chest
99
39
107
42
112
44
117
46
122
48
Sleeve
43
17
46
18
46
18
47
18.5
47
18.5
Trousers
Inside Leg
71
28
74
29
76
30
81
32
81
32
Leg Width
61
24
66
26
69
27
74
29
76
30
Elastic Waist (Not Outstretched)
61
24
66
26
71
28
76
30
79
31

Elastic Waist (Outstretched)

99
39
104
41
109
43
114
45
117
46
Shorts
Inside Leg
6
2.5
8
3
8
3
8
3
8
3
Leg Width
61
24
66
26
69
27
74
29
76
30
Elastic Waist (Not Outstretched)
61
24
66
26
71
28
76
30
79
31

Elastic Waist (Outstretched)

99
39
104
41
109
43
114
45
117
46
Cami Top
Length
64
25
65
25.5
66
26
66
26
69
27
Chest
86
34
91
36
97
38
102
40
107
42
Night Dress
Length
86
34
86
34
89
35
89
35
91
36
Chest
89
35
97
38
102
40
107
42
112
44
Hips
102
40
104
41
112
44
114
45
117
46
Night Shirt
Length
86
34
88
34.5
91
36
89
35
91
36
Sleeve
58
23
61
24
61
24
64
25
64
25
Chest
107
42
109
43
112
44
117
46
122
48
Hips
109
43
112
44
114
45
122
48
127
50
X-Small
Small
Medium
Large
X-Large
CM
IN
CM
IN
CM
IN
CM
IN
CM
IN
Pyjama Shirt
Chest
102
40
112
44
117
46
122
48
124
49
Sleeve
43
18
46
18
46
18
48
19.5
48
19
Trousers
Inside Leg
74
29
79
31
81
32
84
33
84
33
Leg Width
66
26
69
27
74
29
76
30
81
32
Elastic Waist (Not Outstretched)
66
26
71
28
74
30
80
31
84
33

Elastic Waist (Outstretched)

104
41
110
43
114
45
118
46
122
48
3-4 Years
5-6 Years
6-7 Years
CM
IN
CM
IN
CM
IN
Pyjama Top
Chest
61
24
66
26
71
28
Sleeve
36
14
41
16
43
17
Trousers
Inside Leg
36
14
41
16
48
19
Leg Width
41
16
46
18
46
18
| | Centimeters | Inches |
| --- | --- | --- |
| Length (underarm to hemline) | 81 | 32 |
| Arm Length (underarm to sleeve) | 45 | 18 |
| Shoulder Width  | 58 | 23 |
Sizes
CM
IN
Face Towel
Width
33
13
Length
33
13
Hand Towel
Width
50
20
Length
90
35
Bath Towel
Width
70
28

Length

130
51
Bath Sheet
Width
100
39
Length
150
59
Sizes
CM
IN
Bath Mat
Width
60
24
Length
90
35
X-Small
Small
Medium
Large
X-Large
CM
IN
CM
IN
CM
IN
CM
IN
CM
IN
Pyjama Shirt
Chest
105
41
109
43
114
45
119
47
125
49
Sleeve
43
17
46
18
45
18
46
18.5
47
19
Trousers
Inside Leg
75
30
75
30
75
30
75
30
75
30
Leg Width
63
25
69
27
72
28
77
30
80
31
Elastic Waist (Not Outstretched)
66
26
70
28
75
30
80
31
86
34

Elastic Waist (Outstretched)

105
41
109
43
114
45
119
47
125
49
Shorts
Inside Leg
6
2
7
3
7
3
8
3
8
3
Leg Width
63
25
69
27
72
28
77
30
80
31
Elastic Waist (Not Outstretched)
66
26
70
28
75
30
80
31
86
34

Elastic Waist (Outstretched)

105
41
109
43
114
45
119
47
125
49
X-Small
Small
Medium
Large
X-Large
CM
IN
CM
IN
CM
IN
CM
IN
CM
IN
Pyjama Shirt
Chest
105
41
109
43
114
45
119
47
125
49
Sleeve
43
17
46
18
45
18
46
18.5
47
19
Trousers
Inside Leg
75
30
75
30
75
30
75
30
75
30
Leg Width
63
25
69
27
72
28
77
30
80
31
Elastic Waist (Not Outstretched)
66
26
70
28
75
30
80
31
86
34

Elastic Waist (Outstretched)

105
41
109
43
114
45
119
47
125
49
Shorts
Inside Leg
6
2
7
3
7
3
8
3
8
3
Leg Width
63
25
69
27
72
28
77
30
80
31
Elastic Waist (Not Outstretched)
66
26
70
28
75
30
80
31
86
34

Elastic Waist (Outstretched)

105
41
109
43
114
45
119
47
125
49
Centimeters
Inches
Quilts
King

239 x 239cm

94 x 94 in

Super King

290 x 244cm

114 x 96 in

Free Delivery over £50
Easy 90 Day Returns

Ethically Sourced Merino Wool
Description
Made for feeling like you're sleeping on a cloud, our merino wool pillows are the perfect complement to your linen bedding. Our pillows are filled with 100% carded Merino Sheep's Wool and are encased in 100% Organic cotton. These materials have been specially selected to help regulate temperature and aid a night of restful, deep sleep. They are available in three levels of firmness, ensuring that you can find the perfect pillow for your needs.
DETAILS
Our Soft Organic Pillow is filled with 700g of Merino wool, is our softest pillow
Our Medium Organic Pillow is filled with 800g of Merino is our medium-range pillow, offering a great balance of support and softness
Our Firm Organic Pillow is filled with 1000g of Merino Wool and is the firmer pillow in our range, offering maximum support
Learn more and discover why we think you will love our
merino wool bedding
.
Material & Care
FABRIC
Filled with 100% Merino wool
Humanely sourced from free-range Merino sheep in Europe
Encased in 100% organic cotton
CARE
We don't recommend machine washing your merino wool bedding.
The best way to keep them clean, fresh, bacteria and toxin-free and to ensure they last, is to air them in the sunshine on the washing line at least 4 times a year, preferably at the start of each season. The sunshine sterilises the wool and the cotton and the warmth of the sun will encourage any moisture trapped within the wool to be wicked away. Airing our products also encourages the fibres of the wool to naturally expand back out, ensuring that the pillows and duvets are revitalised and bounce back to life.
TrustPilot Reviews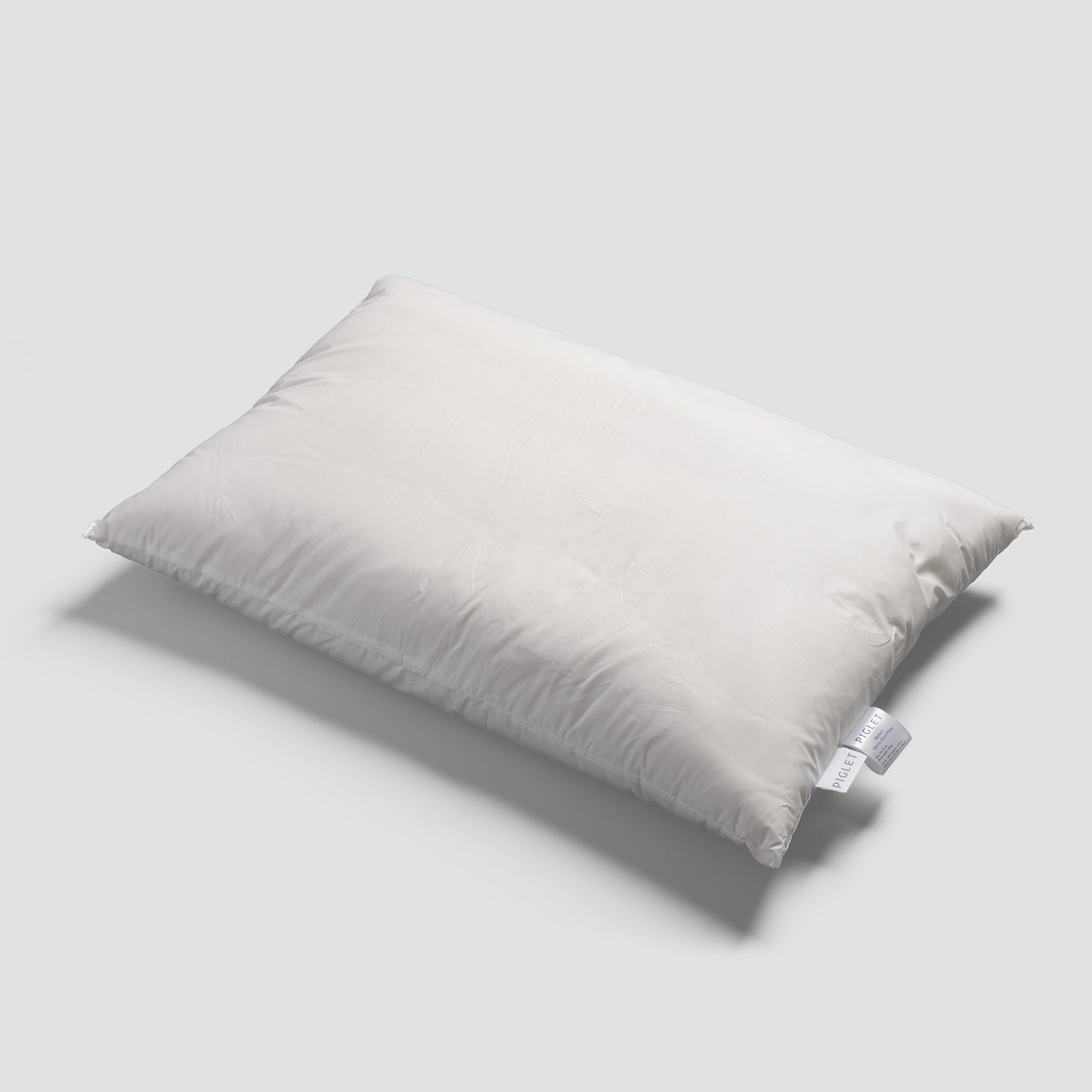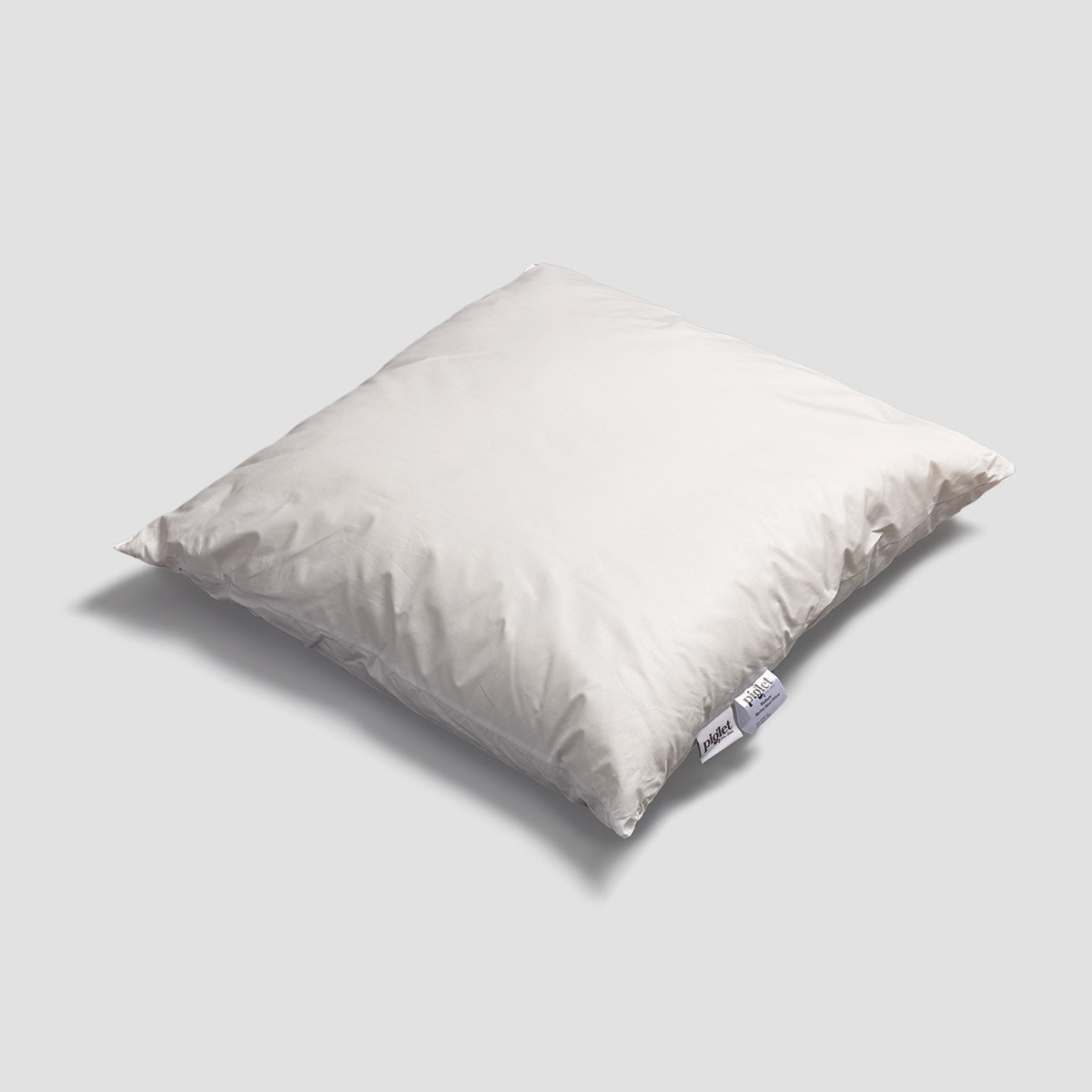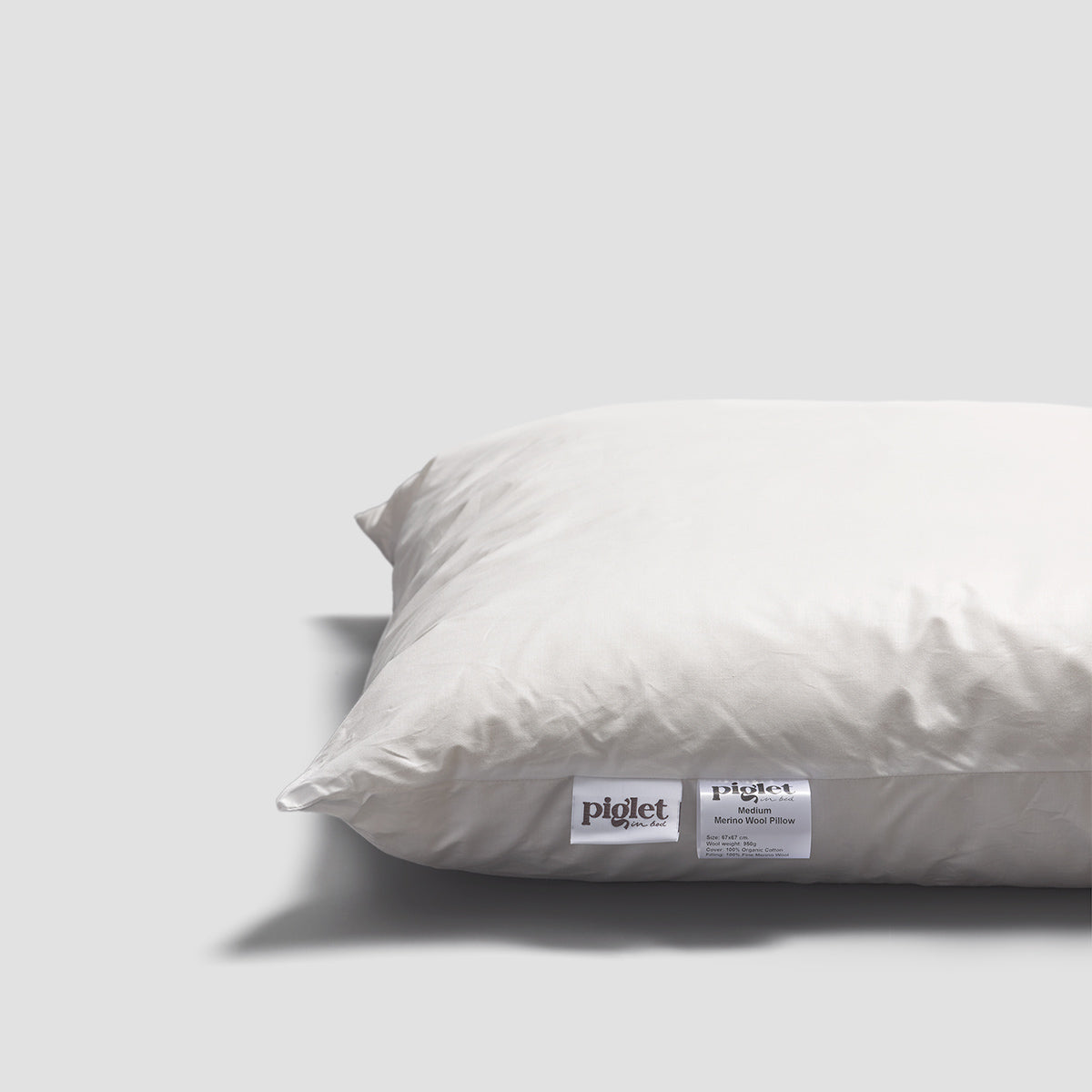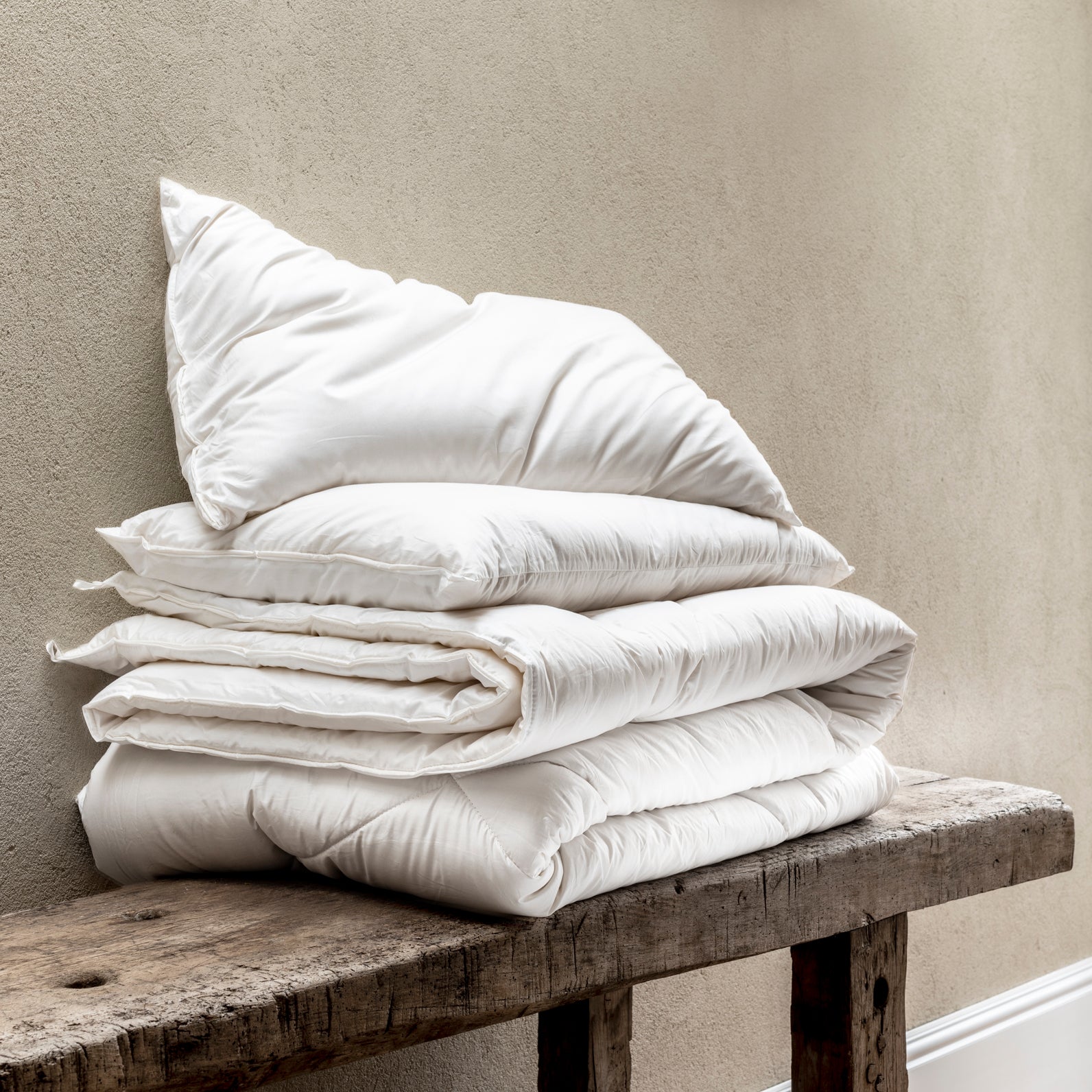 Order your free swatches (UK Only)
Choose up to five swatches
0 of 5 swatches selected
The Piglet Promise

Free UK Delivery (£50+)
Orders dispatched within 4 working days

100% Natural Materials
One of linen's major benefits is how sustainably it is farmed and all of our cotton is ethically-sourced in partnership with the Better Cotton Initiative

Never Containing Nasties
Our linen and cotton is Oeko-Tex Standard 100 certified, meaning it contains no nasty chemicals

Easy Returns
If you are unhappy with your order you can return it with no fuss

Free Swatches
Plan your colour scheme by ordering free swatches of all of our bedding colours
Customers also Bought
Recently Viewed