I live near Chicago, having moved there to be with my fiancé Patrick and our dog Henry. In my continuing quest to explore the great Midwest, last weekend the three of us spent the weekend at a log cabin in Michigan's Manistee National Forest.  
I love the simplicity of cabin living: the closeness to nature, the slow pace and the chance to take a step back from the everyday. If, like me, you aren't always in the mood for the full camping experience, then cabins have the benefit of a firm roof and proper plumbing that tents don't offer! 
This cabin in particular, nestled in the middle of the forest, had a large picture window from which you could watch all sorts of interesting birds in the wild garden. I saw humming birds, cardinals, a bald eagle – which for a girl who grew up in London seeing pigeons and the odd sparrow is preeeetty darn exciting. We made a campfire to cook hotdogs and smores (because America) and watch the stars. Henry spent most of his time jumping in and out of a small river at the end of the garden. And the best bit? Patrick waited until the drive home to tell me about all the bears in the woods. 
In the US, especially in the vast territories of the Midwest, visiting a weekend cabin is fairly commonplace. They are relatively inexpensive to build, easy to access with a car and are certainly cheaper than overseas holidays. Whilst this may not the case back home, we do have some wonderful rental options. Here are my five favourite places to stay for a cabin weekend away in the UK:  

Midnight Stripe Linen Pyjama Set
Settle, Norfolk 
Settle is home to three beautifully restored vintage railway carriages, a lakeside cabin and luxury canvas camping. The cabin and railway carriages each have their own kitchens and bathrooms, all set in beautiful Norfolk parkland. There is even the option of hiring out the whole site, with a pop-up avenue of bell tents. What a dreamy weekend that would be. Find them here or under @settlenorfolk on Instagram. 
Rest + Wild 
"Small places to switch off" is the name of the game at Rest + Wild. Their tiny cabins are made using natural and reclaimed materials, surrounded by nothing but the stunning views of the British Countryside. The hideaways are located in Downton in Shropshire (near Ludlow) and, from the end of 2021, in Fonthill, Wiltshire. Find them here or under @restandwild.co on Instagram.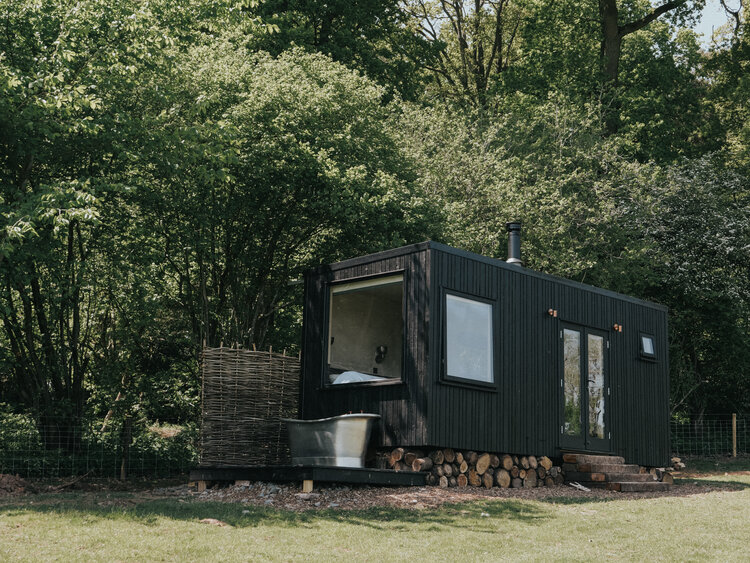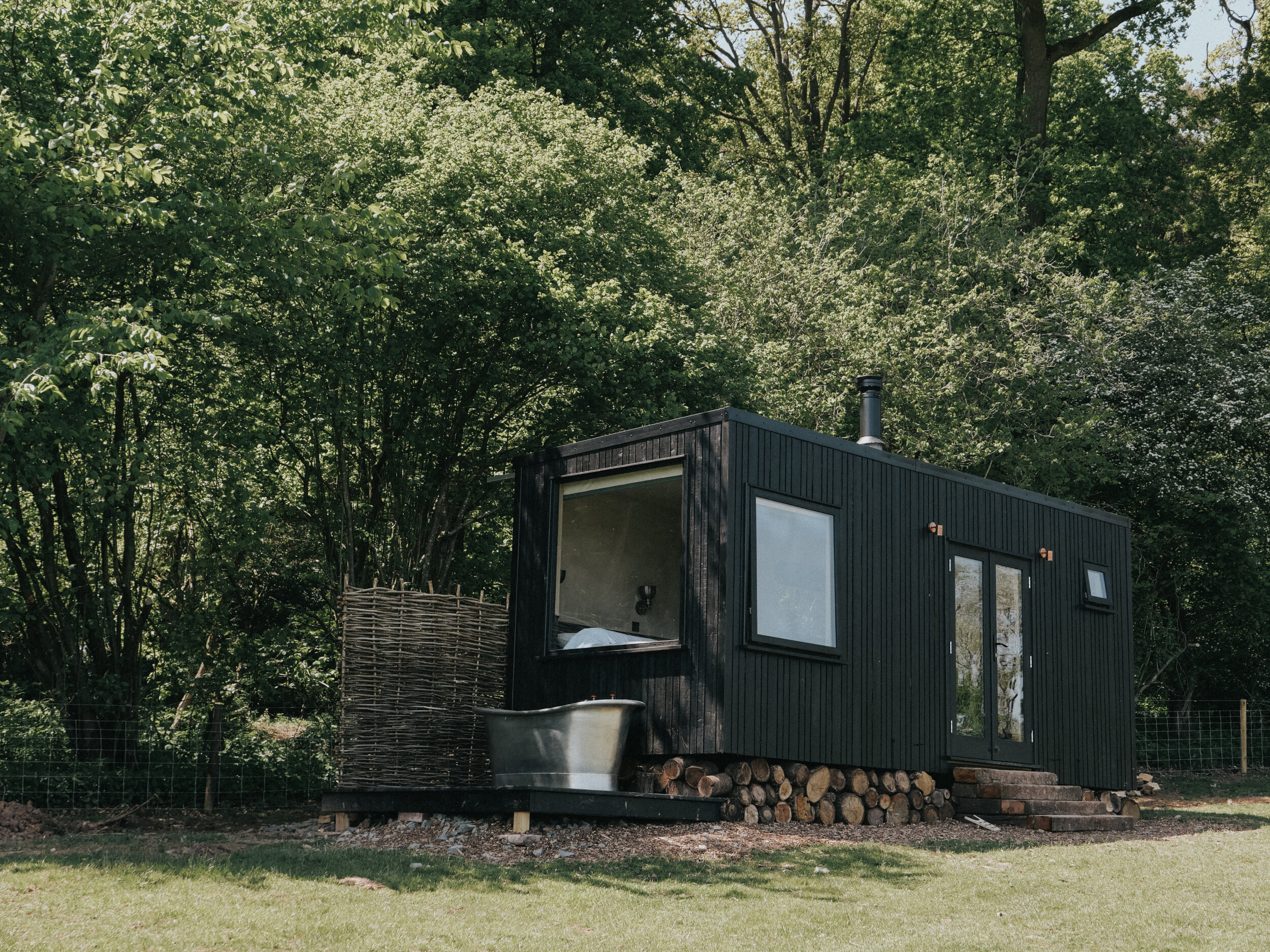 Kudhva 
Set in Cornwall, Kudhvas are little angular cabins on stilts – perfect for soaking in the surroundings far from anyone else. The site now also boasts a Danish Cabin that sleeps six, positioned over a babbling brook. With plenty to do in the surrounding areas, this is a nature-lovers paradise. Find them here or under @kudhva on Instagram. 
Wolf Wood Treehouses 
For something with more of a view, try Wolf Wood Treehouses, set in hidden woodland valley amongst the rolling Devon countryside. Build and run by owners Sam and Rachel Holden, the three treehouses feature rope bridges, hot tubs and wood burners for those colder nights. Find them here or under @wolfwoodtreehouses on Instagram. 
Glen Dye Cabins and Cottages 
Caroline and Charlie Gladstone left their home and jobs in South London in 1990 and moved to the Glen Dye estate in Scotland and started a true passion project: renovating the whole estate. This beautiful part of Scotland now has a number of cabins and cottages available to rent, including North Lodge, a house on the banks of the River Dye, with its own River Cabin, complete with hot tub and Big Green Egg, ideal for summer evening grilling followed by a spot of wild swimming. Find them here or under @glendyecabinsandcottages.